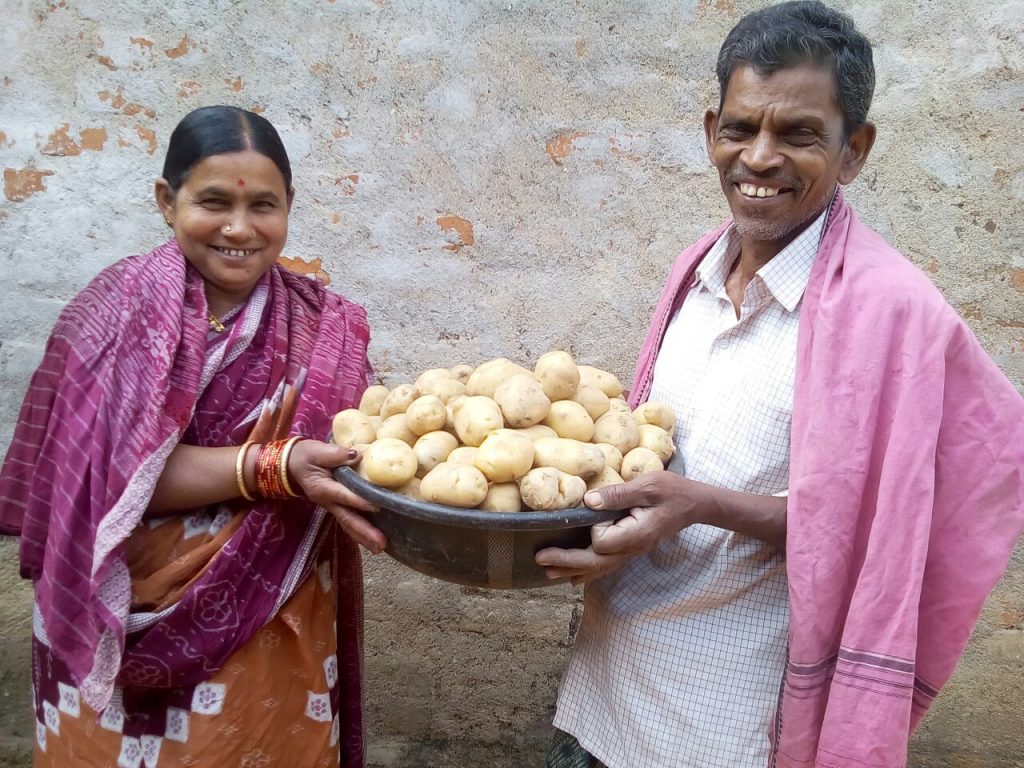 Story of Biharilal Pradhan who has adopted advance procedures for cultivation that assured food security of his family round the year..
It is hard to imagine a kitchen in India without potato. Potatoes have been adapted to Indian cuisines in several creative ways. It often makes it to the front page news when its price goes skyrocketing. India is the second largest producer (after China) with 4.75 crore tones of potatoes produced last year.
Fifty five year old Biharilal Pradhan resides in Dunguri village of Bargarh district, Odisha, which is one of the intervention areas by ACC-SCDP and Mahashakti Foundation. Biharilal's family of eight members lives in a kuchha house of two rooms. Paddy is the dominant rain fed crop & the only source of income for the family. Their 3.5 acres land yeilds less than subsistence paddy. The onset of the monsoon, which becomes active around mid-june and recedes by mid of Octoberdetermines the growing season in rain fed agriculture. The diversity of livelihood activities through multi cropping is an alternative option & important feature of rain fed farming systems to supplement the incomes of rain fed farmers.
To address mono cropping, training & demonstrations on imprpved cultivation, procedures (seed sorting, seed treatment, proper spacing) were organised by Mahashakti Foundation under Sustainable Community Development Project (SCDP) supported by ACC Ltd. in convergence with Horticulture Department where 15 qtn. of potato seeds of Rs. 25 per KG has been distributed to 15 farmers in a subsidized price of INR 5/- only. Rs 10 was subsidized by the department and rest of the amount, i.e., INR 10/- was paid by Mahashakti Foundation under SCDP Project.
Farmers from Sauntamal, Dunguri & Badamal have participated in the training programme. Biharilal was one of them. The programme aimed to provide a supportive ecosystem for farmers to enhance their scale of production with diversity of farming. The major functions of SCDP include trainings, agro clinic support, farmer counseling on one to one basis, mass counseling and awareness programmes, development and dissemination of contents for supporting the extension services.
Soon Biharilal adopted improved cultivation methods and cultivated potato and onion on the same land after the harvest of the first crop to increase cash income. Irrigation opportunities and improved technology in seeds and fertilizers offered Biharilal to intensify farming. After three months, he got 7.2 qnt, of potato and sold it in the local market of Dunguri at the price of 10 per kg. This This cultivation alone earns them INR 7200 in a quarter. Farming became a viable income option for the Pradhan Family.
He learnt techniques of advance farming and experienced relatively low production cost. In other process, Biharilal yield 50 kg of potato seeds to provide quality seeds of local and improved varieties to other farmers residing in the village. He has also mastered the skills for identifying superior varieties and producing quality seeds. He is also encouraging the farmers to cultivate cash crops to supplement their livelihood. For his efforts, he was awarded with "Best Farmer Award" by SCDP and set an example for the farmers of Dunguri village. Biharilal along with his friends use to visit Resource Centre set up by Mahashakti Foundation in its office under SCDP project that ofeers farmers to access information on improved farming practices and technologies and access to books & jounals on agriculture in vernacular language…